Yes, you goyim, it is Shabbat ~ it may not technically be Saturday, but it is after Friday's sundown ~ which makes it official. So put that in your shofar and blow it, dudes!

Due to this article, Moment is gonna print a comment from me in their next issue!
Errmmm... maybe I'd better buy a subscription...
This magazine looks utterly fascinating!!!
---
FLASH! To repeat something from
leikomgwtfbbq
,
*fangirl squee!* I guess the I channel (formerly Pax) has the Monkees on on Friday nights. :DDDDDD I was flippin' through the channel guide looking for something to eat up my time, and I saw that they had an episode on. Huzzah!

It was the one where they stay at the mansion after inheriting an organ from an eccentric millionaire. :D Love! (Particularly for Peter's jammies. I want his jammies.)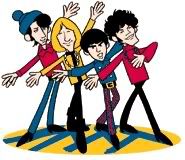 Yeah! Stephydaughterofdoom happen-chanced across the ending credits just before 6:30pm. And I said WOAH. DAMN. ♥
I was thinkin' YAYYZ! and SUKZ! at the same time ~~ because it was the
ending
credits, and Stephy will have to wait till next week to pop her Monkees cherry!!!