CLICK PIC FOR THE APPALLING
STORY BEHIND THIS STATUE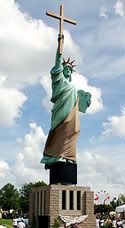 This article purloined from
Simon Napier-Bell's
What's Going On section
Sunday, Mar 26, 2006
In America last week, after a little contretemps with US immigration officers (now branded with armbands declaring themselves part of 'Homeland Security' with that awful thirties Germanesque ring about it), I was left thinking how strange it is that the USA is the only country whose national identity is based on a belief in what it stands for rather than the common background of its people.
(
Collapse
)
Nowadays, as Europe becomes less religious it becomes increasingly difficult for its inhabitants to continue to believe in America.
But, if America is a 'religion', what is France, or Britain, or Germany?
France
, with a language which always ends in phrases with an upwards inflection, seems to be a question. While
Italy
, undoubtedly, is a family lunch, with babies crying, cousins flirting and relatives arguing.
Germany
is a noise - mechanical, efficient and un-pretty, like its language.
Japan
is a huge bath-house to which foreigners aren't admitted.
Holland
is a slice of clean flavourless cheese;
Andorra
, an unreachable itch in the middle of your back;
China
, a loan shop;
Thailand
, a wet dream; and
Australia
, a gloriously rude fart.
England
is still what it always has been - a big whinge.
RELATED LINKS
> On American morals, by GK Chesterton
> Attention all citizens living in God's country without his permission - a special invitation from the Department of Faith to become a real American
> The meaning of American citizenship
> The Italians, by AA Gill
> www.fart.fm - why Australia needs a new energy policy
> How to tell if you're French
> Mind your manners when in Germany
CLICK HERE FOR ALL PREVIOUS WEEKS OF
'WHATSGOINGON'
---

Simon Napier-Bell's
I'm Coming To Take You To Lunch:
'A Fantastic Tale Of Boys, Booze
And How Wham! Were Sold To China'
is published by Ebury Press.

No, the eppylover is not getting paid for this
---
An Eppylover Extra:
Just out of curiosity, I researched this item of interest: