I'd gotten enough feedback from enough people who'd gone to "LOVE" to confirm, as I suspected, they completely ignored Brian. Why am I not surprised.
And I've heard the excuses:
"The show mainly focuses on their music, rather than their careers."
"Most of it contains music post Sgt Pepper era."
etc, etc.
Paul dedicated the show to John and George.
You know what's going through my mind.
Well, I'm on my way to somewhere, so just in case I have no time to post anything else today, here's a jpg of the email I sent to Cirque ~
(
Collapse
)
~*~ ♥ ~*~
In a lighter yet still related context, I'm hot to hear the CD. George Martin was totally one of them when it came to the
music
, and he contributed much more than his share. I'm eager to hear how his "mash-ups" sound.
If I get a minute later, I've got some pics from Trini of the inside appearance of the Mirage, the merchandise tables, etc. Perhaps a crossposticated thingy is called for.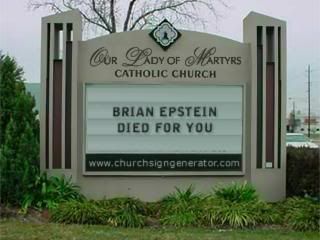 This saying is on an actual London street sign created by Jeremy Deller