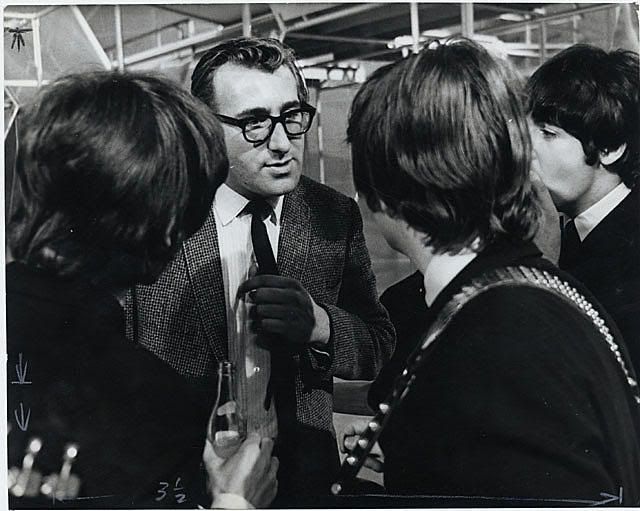 Excerpt from
the MAL EVANS page
in BeatlesNumber9.com ~~
from Mal's diary, January 21, 1963:
"The Beatles have certainly gone up in my estimation. They are all great blokes with a sense of humour and giving one the feeling they are a real team."
For much of the early 1960s, touring became Mal's life. Against the wishes of Lily, left at home with Gary, Mal gave up his job at the Post Office in order to be at the Beatles' beck and call full time, clocking up industrial levels of mileage driving from Liverpool to London. He was also expected to attend to almost every personal whim.
(
Collapse
)
March 18, 1964: "Had plastic cups in top pocket — milk poured in by George. John says after sarnies: Mal you are my favourite animal."
http://beatlesnumber9.com/mal.html
---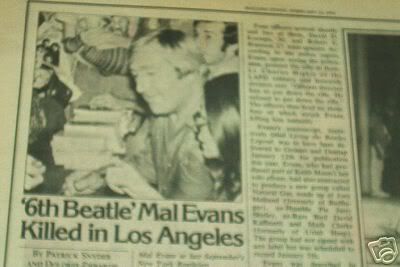 January 4, 1976--At his Los Angeles motel apartment at 8122 West 4th Street, Mal Evans, long time friend and former roadie/bodyguard of the Beatles, is shot to death by police lieutenant Charles Higbie (of the LAPD robbery and homocide division).
In a drunken stupor, Mal had become uncontrollably violent, appeared to be attempting suicide, and pointed a rifle at the officer, who, in self-defense, then shot him six times, four bullets hitting Mal.
His new girlfriend, Fran Hughes, with whom he was living, found him upset and despondent, and when friends couldn't get Evans to release the unloaded rifle he was holding, they called police.
Mal had recently separated from his wife, Lili Evans, who had reportedly asked him for a divorce just before Christmas. Mal was working on a book about his time with The Beatles, entitled Living with The Beatles Legend, which was scheduled to be delivered to the publisher, Grosset & Dunlap, on January 12.
He was 40 years old. When John was told of Mal's death, he broke down in tears.
http://history.absoluteelsewhere.net/