CLICK FOR LARGER IMAGE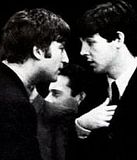 Here's a clarification on that little post I made
here
~ re ~
This question
Have you not noticed the preponderancy of LJ Paul-haters? Nobody hates John (or purports to do so) because he's dead. How fair is that? In just as many ways, John was just as much an asshole as Paul was/is. No more, no less.
Indeed, as anybody can be. My Brian was well-known in the biz for being just as much of an asshole (tut-tut, no jokes, now) as any of them could be - hell, sometimes more, you know, because the buck stopped with him. He sacrificed everybody else's best interests for his Boys. Just ask some of the people they left behind in Liverpool - for example, one still-living bloke who's been choking on those old sour grapes for over 40 years is Bill Harry.
(
Collapse
)

Q: "...history has judged that Lennon was probably the more inventive and talented songwriter of the band (Case for the prosecution: the entire Wings back catalogue)"

A: It's obviously true, then, that death is the best career move for a musician if you genuinely believe this...
Read my post ~
Death Is The Best Career Move
(
Collapse
)