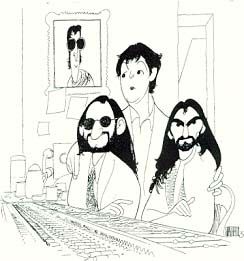 Here's his older reunion Beatles
Being drawn by Hirschfeld
was considered an honor
more than an insult
More Hirschfeld Beatles and other celebs
Al Hirschfeld (1903-2003) has always been one of my fave caricature artists
Hirschfeld is known for hiding the name of his daughter, Nina, in all of the drawings he produced since her birth in 1945. The name would appear in a sleeve, in a hairdo, etc. or somewhere in the background. Sometimes "NINA" would show up more than once, but Hirschfeld would helpfully add a number next to his signature, to let people know how many times her name would appear. Hirschfeld originally intended the NINA gag to be a one-time gimmick but it soon spiraled out of control. Though the NINAs were a popular feature in his cartoons, with many enjoying the game of searching for them, on more than one occasion Hirschfeld would lament that the gimmick had overshadowed his art. On occasion he did try to discontinue the practice, but such attempts always generated harsh criticism.
Hirschfeld's art style is very distinct, and is he is considered to be one of the most important figures in contemporary caricature, having influenced countless cartoonists. Hirschfeld's caricatures are almost always drawings of pure line, with simple black ink on white paper, with little to no shading or cross-hatching. His drawings always manage to capture a likeness using the minimum number of lines. Though his caricatures often exaggerate and distort the faces of his subjects, he is often described as being a fundamentally "nicer" caricaturist than many of his contemporaries, and being drawn by Hirschfeld was considered an honor more than an insult.
From the
WIKIPEDIA Entry
Although Al Hirschfeld gave me many fun NINA-hunts when I was a kid, I'm still grateful he never drew Eppy! Can you imagine what that would have looked like... @_@
---
p.s. I have not had time lately to thoroughly peruse the
beatlepics
community ...
so if anyone sees any
you-know-who
there, please comment to me on any of my posts, thanks! :)