From a radio interview with Dave Barry September 10, 2005:
Fiedler: You've talked often about the most embarrassing thing you've ever done to your children, to Rob actually. I think Sophie is too young to be embarrassed.
Barry: She doesn't get embarrassed yet, but don't worry. I've argued that your job, your main job as a parent is to embarrass your children. It's also the most effective way to control them. But this actually was one of my favorite columns ever.

I got a call from the Oscar Meyer Weiner Corp. saying that they were bringing the Wienermobile to Miami and they asked if I wanted to drive it for a day. Of course I did. What I did was pick my son up at junior high school. Here he's in peer pressure hell and he comes out of his junior high and there's all the moms in their minivans and looming up behind is a really big hot dog with the loudspeaker going,
''Rob Barry, Please report to the Weinermobile.''
If a 13-year-old could suffer a heart attack, he would have.

I know what you're thinking, you scarred him psychologically, but it's worth it.
Fiedler: He's now 24.
Barry: Twenty-four, he can beat me up, but we've reconciled over that issue. He made up for it by taking about seven years to get through college. So he made me pay.
Fiedler: I have daughters who are on that same plan.
Barry: That's what they're all on now. They never graduate from college. Which is good, I tell kids, as long as they are not mine, don't ever graduate from college, it's like the biggest mistake you can make because college is like, there's dorms, there's food, there's this nice little cozy room to go to. It's great. Everything's taken care of -- beer, the football team. When you get out it's all gone overnight.

If you've got RealPlayer -- or whatever they're calling
that damned Real program now --
you can listen to the full interview on an .rm file
HERE.
---
MORE ON THE NEW SID DOCUMENTARY
995themountain.com/beatlesnews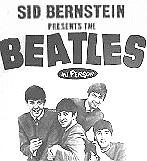 Sid Bernstein, the first promoter to book the Beatles for a U.S. gig, will be the subject of a film documentary titled Sid Bernstein Presents.

Bernstein, who also brought the Rolling Stones, Animals and Kinks to the States in the wake of the American Beatlemania he helped facilitate, has also managed a bevy of other famous acts ranging from the Rascals to Laura Brannigan.

Co-directors/producers Jason Ressler and Evan Strome have worked on Sid Bernstein Presents for 5½ years in an attempt to uniquely portray the American-Dream-like story of Bernstein's rise and reign in the music industry. Hundreds of artists have benefitted from Bernstein's promotion and guidance.
Audio: Sid Bernstein
on booking the Beatles at Carnegie Hall
In addition to his instinctive booking of the Beatles at Carnegie Hall — before they'd been heard of in the U.S. — Bernstein was responsible for helping Latin and African American music cross racial lines into the mainsteam. A number of popular comedians, actors and actresses got their big breaks through Bernstein's efforts as well.

Interviewees in the documentary include the late Tito Puente, Lenny Kravitz, Shirley MacLaine, Dick Clark, Ahmet Ertegun and members of the Animals, Herman's Hermits, the Rascals, the Moody Blues and the E Street Band.




______________________________________________________

If you haven't done so already, please click
and sign for Brian at - www.brianepstein.com.

♥ ♥ ♥ ♥ ♥ ♥ ♥ ♥ ♥ ♥ ♥ ♥ ♥ ♥ ♥ ♥ ♥ ♥ ♥ ♥ ♥ ♥
The Rock and Roll Hall of Fame itself is a bunch of crap,
but if you need to be reminded why this petition is so very
important, please CLICK HERE.