I'm a hippopotamus and I've got noodles on my back,
noodles on my back,
noodles on my back,
I'm a hippopotamus and I've got noodles on my back,
noodles on my back,
noodles on my back ...
---
"Journalist Ken Seymour was based in Montreal at the time working as a freelance radio reporter. He was the first journalist to meet them in Montreal, and had exclusive access to them to conduct the interview. It was originally intended to be used for a Canadian radio show Something To Say, but shortly after the interview, Seymour's father was taken ill in England and he had to return home. The interview was never broadcast and has remained locked in a trunk for 36 years.
The following was of interest to me; you may find other info more or as compelling:
(This tape includes)...

His reminiscences of attending Sunday School as a child until he was banned from the church "for laughing";
His relationship with his son, Julian, and step-daughter, Kyoko: "Kyoko wants to marry Julian and Julian wants to marry Kyoko";
His memories of Paul McCartney's original audition for The Quarry Men in 1957, and
His judgement of the contributions made to The Beatles' business career by Brian Epstein and Allen Klein."
---
See another view/review
of the "New & Improved Incarnation"
of the LENNON musical at:



Josh Max's Blawg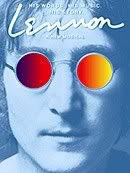 What highly amused me about this review were that the very things previously blasted by other critics for having been left out of the previous incarnation are now similarly being dissed by Mr Max for being included. Such as the total absence, in the old version of the show, of any mention of May Pang or Lennon/Ono's heroin use - now that these pieces of history are included, he complains that they are "inconvenient facts". ???
And Mr Max calls "Watching The Wheels" and "Starting Over" mediocre fare? Those are two of my favorite songs, and I think two of John's best!
Funny quotes from the same:
"Paul McCartney, a seminal figure in Lennon's life for 22 of his 40 years, gets one 30-second scene where he's portrayed hilariously by Michael Potts as a smiling, phony, hack composer."

"The young Beatles are entertainingly played by the actresses in signature collarless suits but are otherwise given short shrift by the production, boiled down to even less than their cardboard stereotypes of the witty one, the pretty one, the quiet one and the one with the nose."
And! Ha! Here is one switcheroo that I (naughty me!) approve of:
"Beatles manager Brian Epstein gets more lines than George or Ringo, who get none."
As much as I love George and Richie, for once Eppy gets something that some of the other four Beatles don't.
(Tee hee)
And here's a post by this same blogger that wrote the above LENNON review - he is known to occasionally play John Lennon in a tribute band - and he's quite accepting of the poetic justice of The Pete Best Band possibly bumping his band (The Maxes) from a gig! Click HERE for the short, ironically amusing entry.



______________________________________________________

If you haven't done so already, please click
and sign for Brian at - www.brianepstein.com.

♥ ♥ ♥ ♥ ♥ ♥ ♥ ♥ ♥ ♥ ♥ ♥ ♥ ♥ ♥ ♥ ♥ ♥ ♥ ♥ ♥ ♥
The Rock and Roll Hall of Fame itself is a bunch of crap,
but if you need to be reminded why this petition is so very
important, please CLICK HERE.
♥ ♥ ♥ ♥ ♥ ♥