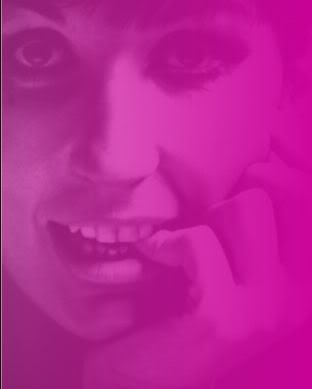 [ CLICK HERE ]
to see a nice little
film trailer for the
video that was
released yesterday


---


A recent article from

Remembering Alma
by: Caroline Westbrook
October 26 marks the 40th anniversary of the death of Alma Cogan, the Jewish singer who notched up a massive string of hits in the UK in the 50s and 60s. Known as 'the girl with the giggle in her voice', Cogan died in 1966 of throat cancer, at the age of just 34.


She was born Alma Angela Cohen on May 19 1932 in Stepney, East London, the daughter of East European Jews. As a child her family moved to Worthing, Sussex, and later lived in Reading. It was her mother who encouraged her to enter showbusiness, and she signed a deal with HMV Records while still a teenager, making her first record, "To Be Worthy Of You"/"Would You" in 1952.

However her big break came when she landed the job of resident singer on the BBC radio show Take It From Here the following year. It was there that she got her nickname, after breaking into a laugh while recording the track "If I Had A Golden Umbrella."

From there the hits kept on coming, with some of the best-known including "Bell Bottom Blues," "Never Do A Tango With An Eskimo," "Little Things Mean A Lot" and "I Can't Tell A Waltz From A Tango." But she was almost as famous for her image and lifestyle as she was for her music. On stage she wore extravagant, glittery dresses and was renowned for making several costume changes during her shows.

And her London flat - which she shared with her mother and sister Sandra - became an 'open house' for celebrities, with all manner of famous faces dropping by on a regular basis. Sammy Davis Jr, Cary Grant, Ethel Merman, Danny Kaye and Michael Caine were among those who were frequent visitors to the house.

The Beatles also became regular guests after Alma met them during rehearsals for Sunday Night At The London Palladium in 1964. "She invited us round to her mum's place in Kensington, she and her sister lived with their mum, and her mum was an old Jewish lady," Paul McCartney later recalled. Alma became a close friend of John Lennon, as well as the Fab Four's manager Brian Epstein, who also came from a Jewish family.

As well as being a huge star in the UK, Alma also recorded tracks in German, Japanese and Swedish, and toured Sweden shortly before her death in 1966.

She was buried in Bushey Cemetery in Hertfordshire - which is one of the biggest Jewish cemeteries in the UK - and to this day her grave still attracts frequent visitors.


A new video featuring her songs
and performances is out now:
Alma Cogan - Her Fabulous Story
on Odeon Entertainment.



~*~ ♥ ~*~

~~ Please visit Alma Cogan's very lovely official website ~~
http://www.almacogan.com