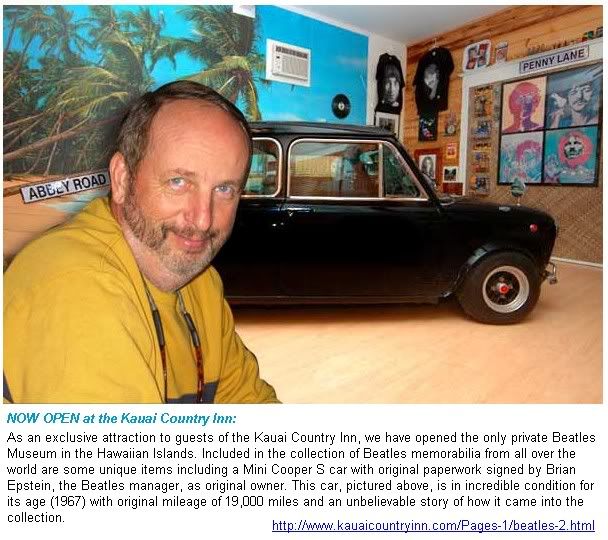 Click pic & scroll down for the hotel website's memorabilia & etc.

Kauai Country Inn features Brian Epstein's Mini Cooper S
Neat news Story about this English guy who runs the hotel:
Kauai hotel preserves Beatlemania for the ages



---

Last week, I don't know how many of you had the pleasure of downloading and listening to this, so I refreshed the upload ~ and it is worth hearing.

DID YOU KNOW...


That when you're suffering from PMS,
you become a cross between
Dustin Hoffman and Mr. Magoo?
YouSendIt.com mp3 5min

---


Thank you,
van, for showing us the
(below) little automatic matcher-upper-counter!

So this means, when I go back to my maiden name in a couple of years,
I shall be the only one!!!
(Unless an Ignasiak names his newborn Christine in the meantime)...

---


How unfair, is all I could think, as I read the last few words of this paragraph at The New Jersey Star-Ledger ~~

"We were down to our last $1,000 and said we couldn't do it any more (in Oregon), so we took Brandon to the best program that existed for him," said Brian Epstein, a Manhattan clothing designer.

The reason I say "unfair," is that my Brian Epstein had his teen heart absolutely set on becoming just that ~ a clothing designer. Then his daddy blew holes through his dreams and his life.

Until The Beatles. But that was good luck for the rest of the world.

The jury in my head is still out as to whether it was good luck for my Brian.

I wonder what that Manhattan Eppy looks like.......


---
Something I've pondered
If I had Photoshop and could use it:
I'd love to see what Brian would have looked like outfitted in Hasidic garb.
He was not a Hasid; indeed, he was raised as an Orthodox Jew ~
and, considering his discomfort with his background,
I'm certain he would not have appreciated my thought.
But anyway. (I think it's mega-sex)

---
---

STUPID OLD LADY QUESTION OF THE DAY:
What is the purpose of a "fanlisting"...?
Maybe I'm not fully aware of what a "fanlisting" entails,
but from what little I know about them,
I really don't see any possible benefits, myself.


---

I know y'all have probably seen this pic, but...
Thanks to my niece, now we know ~~

What happens when you:
1) have nothing to do
2) own a sharp knife
3) have a large lime
4) own a patient cat
5) drink too much tequila
6) and it's football season?

[ THE RESULT ]


---
"Why yes, I am Mr. Epstein!"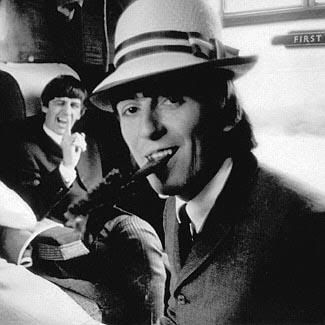 Ringo's opinion on Brian's "cleanup" of The Beatles
From a member of rmb, quoting from a Musician Magazine interview

MUSICIAN: I want to ask you about Brian Epstein. I think it was John
who was quoted as saying that by the time you had arrived in the
states Brian had sanitized your act to the point where a lot of the
balls was wrung out of it. Was that true?

RINGO: We weren't playing like in Hamburg. It's the old story that
Brian was the one who made us put on ties..

MUSICIAN: But did that really affect the music?

RINGO: Well, no, it affected our attitude toward Brian!

MUSICIAN: What had your attitude been like up till then?

RINGO: We were drunken slobs! Just drunken slobs smoking and drinking
onstage and having fun, and to hell with Eppy's prissy fussing about
our appearance and manners. But eventually it turned into a business.
From saying things like "AH, PISS OFF!" to the audience, we became a
professional group. It became a little... nice.


---

Just for fun:
FAMILY GUY VIDEOGAME PREVIEW
http://www.youtube.com/watch?v=FMzHqU9fnIA
---

Okay, so the eppylover's John thing will be posted tomorrow.
I'm sure we've all been Lennoned to death for the day by now.
{(( Okay, okay, I know how you guys are, hee hee...no such thing as over-Johnning! ))}