I think I'm a couple of years too late in discovering this new direction in entertainment. Well... it's new to me, so here goes...
---
~*~ ♥ ~*~
CLICK FOR SUPER-HOT ENLARGEMENT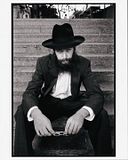 I want y'all to latch onto Matisyahu, the Hasidic Jewish Jamaican-style rapper who made me actually love a style of hip-hop! I don't usually use the word "cute" but... he is SO. DAMN. CUTE.

And, to me, his sexy voice pleases all the way through. A beautiful hybrid of yiddische rap with a reggae beat. *shivers*

CLICK FOR LARGER PIC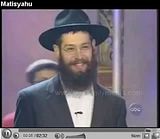 Here is my virgin experience with the man ~
Matisyahu on YouTube
At first, I giggled at the novelty of it all. By time it was half-through, I was mesmerized. When it was done, I was in love.

More of my man on YouTube

[ If any of the below don't play or save for you, please let me know and I can upload my copies to YouSendIt. ]

His most popular song ~ and the one that explosively launched him: King Without A Crown



I like this one a lot ~ from his Live At Stubb's album:
Aish Tamid

The next one's much more Jewish-sounding (to me, anyway). Not so much rap, but the beat does have that Jamaican flavor ~ and I sigh when I'm listening to it.
Father In The Forest


orock1059.com interview with Matisyahu ~~ it starts out slow (he's very soft-spoken), but by the end of the talk it gets better.

The following text, about Jewish rappers, is copied from the so much silence blog:

"Because I work at a newspaper, I spend a lot of time reading wire stories from papers across the country. I came across one from the Albany (N.Y.) Times Union about the emergence of Jewish hip-hop in the mainstream. Being that I'm half-Jewish (the other half Irish-Catholic) and a fan of hip-hop, I was naturally intrigued.

Matisyahu -- the self-proclaimed 'Hasidic Reggae Superstar' (as if there are a lot of those) -- has earned some blog time for his Live at Stubb's album. The guy's back story is very interesting. Among the highlights: He won't perform on Jewish holidays or the Sabbath (sundown Friday to sundown Saturday) and he regularly consults with his rabbi before touring so as not to violate Jewish customs.

Then there's Hip Hop Hoodios, a group its members call a 'Latino-Jewish urban music collective.' And I gotta say: Havana Nagila is great. Opening line: 'I'm a Jew for thugs / a Jew for hugs.' You can buy their full-length Agua Pa La Gente at amazon.com.

Just upon first listen, I think the best part is that neither of these acts comes off as a novelty; their religion is the foundation, but the music is strong in itself."
[end of quote]

Oy gevalt. Someone made a mashup of Matisyahu and The Rolling Stones:
Matisyahu & Stones Mash ~ Chop Em Down

He really started something~
Other Jewish Rappers who followed his lead:
Itzchak Nissim - Listen to the new Chouva Rap CD
==>> Click the "Listen" link
(Doesn't really sound rapp-y to me, y'all)

The next one's not a real great for my ears ~ too rappy ~ but you may find it interesting nonetheless ~
A Bissel Rap by Joel Moss


Finally, there's someone called "50 Shekel" (get it?) who bills himself as a purveyor of "Heeb-Hop." *facepalm*
His stuff is also too rappy for me ~ In Da Shul

Reading some of the anti-Matisyahu comments in the right column of the 50 Shekel article, especially this one ~
"At least this guy seems to be acting genuinely ridiculous...that joke, Matisyahu, puts on a fake Jamaican accent and, according to his bio, was a wayward drug user until just a few years ago...PLUS, his music and lyrics SUCK!"
~ I can dig where they're coming from, but hey. All show-biz is based on "put-ons" and fakery, isn't it? The accent is part of the sound, like musical tones.

As for Matisyahu being a former junkie, I think that's more of a pro than a con here ~ classic case of a man finding himself and his place in life through his art. Contrast that with 50 Shekel, who only seems to be hitching his cart to a fad, and pulling out every bit of shtick he can muster up. Pretty amusing at times, too. But very obviously only a novelty.

Also, whether music and lyrics suck, of course, is a matter of opinion. Each to his own.

It's funny ~ upon reflection, I realize that 50 Shekel is precisely what I initially expected Matisyahu to be.

When I listened to interviews, I noticed that, compared with Matisyahu's gentle speaking voice, 50 Shekel comes across like a slick con artist. But, that's just to my ear. Your mileage may vary.

Since I began listening to Matisyahu, and then checking out a few other "Jewish rappers," I have come to the conclusion that, besides the Hebrew thing being the primary attraction, it's the reggae beat that I find so compelling. I don't really care for performers who do a Jewish rap without a Jamaican influence. Perhaps that's because I don't care for rap at all. (Give us a rousing well duh.)

CLICK PIC FOR A HOT
FLASH MTV PHOTO GALLERY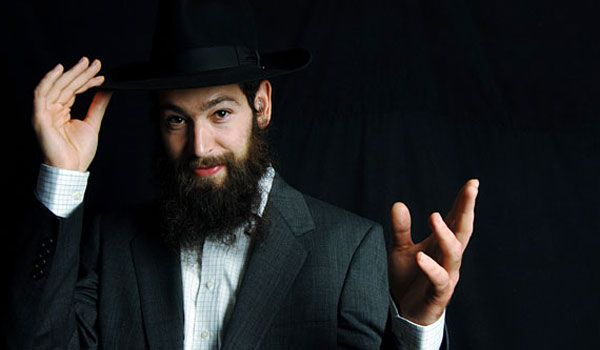 Disclaimer.
Ahhh... so you say, eppylover, I thought you were anti-religion, and this guy sings about God and all that? Well, the content of the lyrics doesn't really matter to me at this point, because it's what HE is into, and I don't hear anything in it where he's trying to tell me it's what I should be into! Well, except for finding peace and happiness within yourself in your own way. See?

And he's very passionate about it. I find that sexy. Of course, I find Jews sexy anyway.

Christine, you are SUCH a reverse bigot, you disgust me.
Could you call me, perhaps, an anti-non-Semite?

---

Well, all right already. I've been throwing at least one Eppy/Beatle-related image in lately, so here's a rerun.


(Looks to me like Keith is reacting to one of Eppy's smartass private witticisms)