Read this three-page article from August 2006 ~~ it's exciting!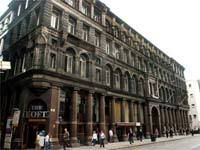 It's been a Hard Days sight

That brings me back to January 2005, when I first heard that Liverpool's Hard Day's Night Hotel was indeed on its way to reality, and I wrote this email to the people in charge of planning the hotel:

----- Original Message -----
From: christine
To: office@thecavernliverpool.com
Sent: Saturday, January 29, 2005 4:09 AM
Subject: Beatles Hotel

Don't know if this is getting to the right person, so please pass it on to whom it may concern:
We just read the Liverpool Echo article "A hard day's fight for Beatles hotel", and wish to make a statement.

I shall make an Epstein-ish prediction: This Beatles hotel will be extremely popular ... and rooms, if not outrageous in price, will be sold-out.

I'm sure that we ourselves would definitely opt to stay there over any other accomodations. The "Epstein's Hotel" was, at first, our most likely choice, until we were told its location was in a very dubious section of town, and not near enough to sites of interest. So your Beatles Cavern hotel wins.

CLICK TO GO TO THE EPSTEIN HOTEL SITE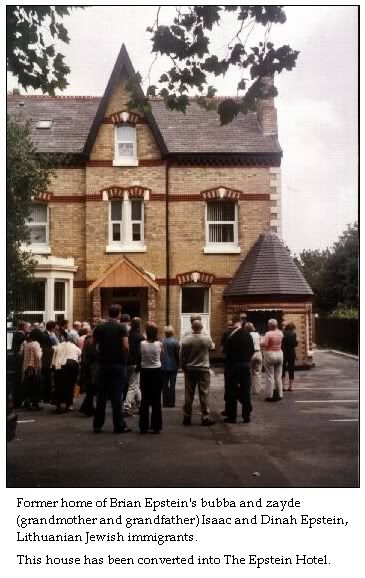 ~*~*~


CLICK TO SEE GALLERY OF PHOTOS FROM EPSTEIN HOTEL


(continuing my email)
The article states: "No space will be wasted in telling the musical history of the Beatles."

Well, guess what, they never would have made a "history" if Brian Epstein had not intervened.
We think the story of Brian Epstein should encompass a very large part of this project. Upbeat and comprehensive. It should be in keeping with the charming dignified image that Brian wanted people to see of himself, not the trash that we have been loaded with since that Peter Brown book in 1985. In other words, if you're not going to delve into the downside of the Beatles' private lives, the unsightly truths and half-truths such as those presented by tabloids ... then treat Brian as you would treat the Beatles. Anything less would be unfair.

Sorry for the rant, but we just want to make sure Brian Epstein is not treated lightly, and he gets the recognition he deserves ... more than what the Beatles themselves have given him after his death that would pass for "tributes." You can count on the fingers of one hand all the tributes that the Beatles made or created for the man ... without whom ...

Thank you!

christine holmes~
==========

I received this reply:
epstein room is part of the plan
==========

So, with my usual blithe inconsistency, and disregarding my own plea for Eppy dignity, I shot back a short email:
You said:
> epstein room is part of the plan
_____
... it better be bigger than a closet!
Uhh, pun intended, with love. ; )
==========
So saith the arrogance of the eppylover: Actually, the Epstein portion of the hotel should, by all rights, take up at least an entire floor, but you know how it is. :)

CLICK TO READ THIS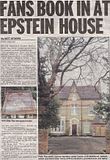 Too bad Brian's grandparents' house is too far from everywhere.

But, Brian himself never lived there, and it wouldn't be like staying in his Queens Drive house.

Unknown who lives there now, at the place where he and Clive grew up.


I think it would be more appropriate for an Eppy lover to take the Brian Epstein Room in the Hard Day's Night Hotel ~ so close to the Cavern and the former NEMS Record Store, etc.!

---


I love this guy's Beatle-y accent in the following little video clip:

"WATCH Jonathan Davies, the developer behind the project, talk of his amazement at the surge of visitors to the Hard Day's Night Hotel's website - click here"

---

The article linked at the top of this post states there will be more images in tomorrow's ECHO.
---
Today's Humourous eBay Item
HAHAAA!!!
This is what you call being REALLY desperate for Beatles 'memorabilia'...!
RINGO
---
Other Misc Findings
Hmmm. Interesting.
Also interesting...
---

Okay, okay, okay. I know everyone wants a picture.
Here's one I've always liked: