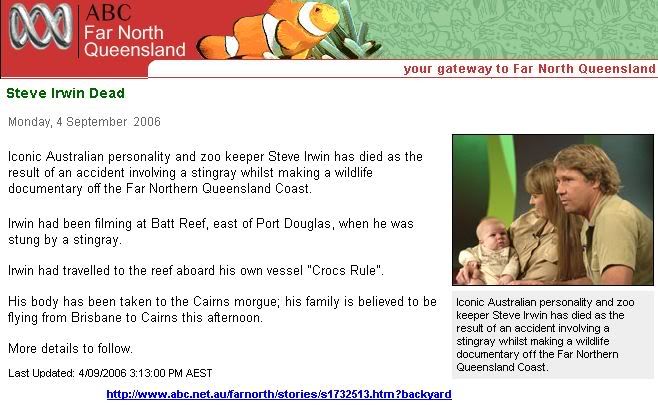 Another, more comprehensive, news article from Australia


This morning Stephy told me: "It figures. The one celebrity besides Ringo that I actually DID like, and now he's dead."
CLICK FOR LARGER PIC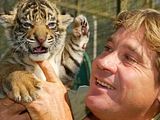 ME: Welcome to my world.

STEPHY: Damn. And you know what? Tomorrow when I go back to school, all the other kids will be like, "Wha, that crocodile dude? What a loser anyways..." and go on blabbing about their Justin Blake and Jessica Spears and whatever...

ME: Who?

STEPHY: Oh, I don't know any of these stupid celebrities they go for these days. OMG, you're making me feel like an old person!

ME: Justin Blake and Jessica Spears...?

STEPHY: (cracking up) Ohhh, I don't know if I'm laughing or crying now...

---

This is no doubt an extremely premature statement, but Christine is waiting for the bad-taste humor on this to emerge from the internet.
Nothing is too sacred to laugh about, and death is at the very top of the list for me.
Like I said, welcome to my world.