In solemn response to a very, very serious inquiry by
ernestinewalker
Is a bear Catholic?

CLICKY FOR A PLETHORA OF FAITHFUL URSINE

[pondering]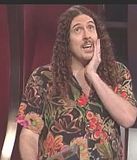 Conversely, we are now inclined to ponder the inverse:
Does the Pope shit in the woods?

Well, if this is true ~~ copy the following url and paste it in your browser's address space ~~
http://www.pritchettcartoons.com/cartoons/bear-pope.jpg
then the opposite concept must also apply.

This is the word according to the UK's The Guardian.

To sum it all up, according to the word of eppylover:
Bear, Woods ... Catholic, Shit.
Amen ... And A-women.
(no sexism 'ere, mates)

---
Throw an autographed copy my way, Simon sweetie.
I'm shouting about your writing(s) again.

I love the below nice review thingy about the
first Simon Napier-Bell book I ever bought.


From The Guardian Unlimited
11. You Don't Have To Say You Love Me by Simon Napier-Bell
Ebury Press, 1982
Gossipy, camp and wise - the perfect guide to the decade they can't forget

They say that if you remember the Sixties, you weren't really there, but that is quite clearly rubbish.

The problem with most music memoirs from the most exciting decade of the last century is that they remember their youth a little too well, but Napier-Bell's cheeky, laconic tales of life on the make as a budding svengali don't suffer from that.


Whether he's talking about watching schoolboy athletics with Brian Epstein and Robert Stigwood, meeting John Lennon looking for his mind under a table or organising fake orgies for hip Italian film-makers who want to make documentaries about swinging London, the former manager of the Yardbirds and Wham! is a camp, fun-loving host in a genre overrun by over-earnest, long-winded ones.
But he isn't just a great gossip; he's wise, too ('It's not always a wise thing to sort out a group's internal problems... you might lose the underlying creative element'). Extra kudos is awarded for calling a chapter 'A Bunch of Cunts (Marc Bolan)'. Tom Cox
· See also: the same author's 'Black Vinyl, White Powder' (Ebury), which brings the action further up to date.
Or, read this article on its original site:
The Guardian's 50 Greatest Music Books Ever


I must both moan and enthuse to y'all that Simon has ceased treating us to daily web-pleasuring at his site
http://www.simonnapierbell.com
I also use the word 'enthuse' because our man is presently in the throes of creation! This next book threatens to be the most up-to-date excess of wonderous juiciness yet.

BTW, his site is still open for those who have not thoroughly perused it.
Good heavens, man! Go ahead! Clicky and soak it in.
I often hear you guys bitching that you're BORED. Well!
There be plenty of hours-worth of writty to amuse and bemuse at dear Mr. Napier-Bell's.

---
CLICK FOR
LARGE GEORGENESS

Extra added attraction:


George Carlin speaks to us
of minority language usage.
http://www.yousendit.com/transfer.php?action=download&ufid=325D800B731AE867