---
This old Newsweek contains a pic of Brian that I don't have, and need scanned, or a better quality version thereof: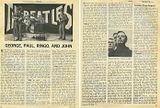 CLICK FOR LARGER IMAGES
These are merely illegible eBay seller photos.

It's on eBay right now, and unless it goes up in price (just watch, it will) I'm tempted to try for it.
I really shouldn't, no no no, because I'm sure someday I'll be able to find that magazine, in the library or something, just to scan that one silly image.

An amusing addition here: The following link takes you to an excerpt from that Newsweek article.

Be amazed at this short but enlightening description of how the "normal" world TRULY viewed the Beatles during their Beatlemania years. I can vouch for it, I can.
[_LINK_]


---

JUST FOR FUN
Who said this? ~
"There is a fifth dimension, beyond that which is known to man. It is a dimension as vast as space and as timeless as infinity. It is the middle ground between light and shadow, between science and superstition."

It's the same person who said ~
"It is difficult to produce a television documentary that is both incisive and probing when every twelve minutes one is interrupted by twelve dancing rabbits singing about toilet paper."

Can anyone answer that? Just *PAF!* throwing it out there.


---

NEW TRINI BEATLE PICS
From BWTB
Wednesday, August 16, 2006

CLICK FOR LARGER IMAGES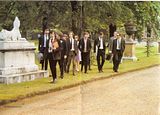 Paperback Writer/Rain Photo Session
Click for another, huge,
1835x1075-462K enlargement
of the cast and crew ==>>
Click _HERE_ to see 99 more pics!



~*~ ♥ ~*~





I think this is a thumbs-up Brian is giving.
I certainly hope it's not that gesture connected with the nasty habit that will give you pimples and make you go blind....Naaahhhh. Not Brian.

Another batch of Trini Pics ~
I Give 'Em Two Thumbs Up!
Pics of the fabs giving a thumbs up.
Click _HERE_ for 80 more pics!

===

IS THIS DISGUSTING TO YOU?
ARE WE GOING TO STAND FOR THIS? ~
Infomercials to replace long-running Beatles show in Los Angeles
"The tanking ratings brought on in part by Howard Stern's move to satellite radio has affected the bottom line of former affiliates such as KLSX, so stations are scrambling to make money through paid programming."

Breakfast With the Beatles is being bumped off the schedule for infomercials.
Source: The Daily Breeze, Los Angeles
http://www.dailybreeze.com/rave/articles/3542782.html

Readers: Please complain about this to the powers that be.
After all, this is how Trini is able to share her Beatle Pics with us!
___________________
NOTE: When I get the chance, I intend to post these latest Trini submissions to
beatlepics.