New post from Trini
of Breakfast With The Beatles:

YouTube Audio (with pictures)
John Lennon, disc jockey!
on the LA radio station
93KHJ-FM, in 1974

Listen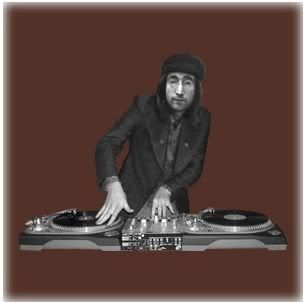 The uploader's description:
In the early 70's KHJ would do "Superstar Week", a different superstar would host the morning show every day during a week in October 1974 while morning host Charlie Van Dyke was on vacation.

This is John Lennon on the air from 6AM-9AM playing songs,taking calls and doing a live read for Tower Records.

We even hear John play Paul's latest hit single "JET" and he comments that that he really wanted to play "Monkberry Moon Delight" instead. Did John Lennon actually have a favorite Paul song??

An interesting part is John talking on the air with a listener who requests a Beatles song that has never been released!
To quote one of the commenters on YouTube:
John gets caught off guard when McCartney's "Jet" fades out. The version of Jet heard here is the edit version that Capitol issued to radio stations at the time, it faded out instead of ending cold like the album version.
---

In Other News:
Access Hollywood to broadcast exclusive in-depth look at The Beatles LOVE by Cirque du Soleil
The Article on Access Hollywood.com
The announcement on the Strawberry Fields forum
Broadcast Premieres August 19 on the NBC Universal Owned and Operated Television Stations Hosted By Nancy O'Dell And Billy Bush
Exclusive Interviews with Paul McCartney, Ringo Starr, Yoko Ono
& Olivia Harrison Featured

[ BTW, Cirque du Soleil has never responded to my email.
Not surprising, considering I was using a bit of vinegar there. Maybe, just maybe, it put a bug in someone's ear.
At least I didn't just sit back and do nothing. ]



---


In yet OTHER news!

In consideration that the Beatles fandoms (oy, how I hate the word 'fandom'...!) seem to perpetually collide with the Star Trek fandoms:
Capt. Kirk starts an online DVD club