A comic for this week's Shabbat shmooz ~ from one of Stephy's fave comic websites!
(Yes, this is full of stereotype... but both characters are supposed to be jerks!)
The Karnak Hates Everything Show

The sweet li'l Kosher Penguin in the comic can be found on this page... and this is where you can also find "the waddling Fab Four" ...gee, I wonder who they're supposed to be?
(Note: when you click on a thumbnail, scroll down for the larger pic & description.)

=====

More Plushy Judaica:
If I were born of the Hebrews, I would grab this immediately!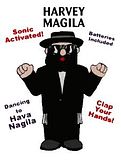 Harvey Megila
However, seeing as the cute little fella can be easily misconstrued as anti-Semetic...
OY, even if I were a converted Jew, owning him would tend to make me feel like a bigot or something.
(But I heart this puffy mini-rabbi nonetheless) ...L'CHAIM!

THIS is what Harvey looks like in real life. Stephy says he belongs on Sesame Street!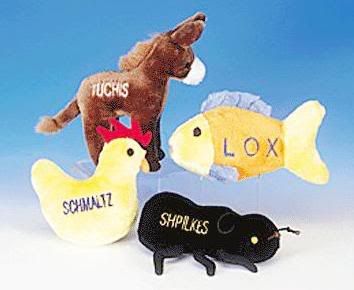 Some of these pet toys make me giggle...

Lox the fish...
Schmaltz the chicken...
Tuchis the Donkey... (get it?)
and Schlep, the furry squeaky camel...
(pictured elsewhere on Ari's page)

...but I can't make out what the name on the bug is...
I'd make a bad Jew, wouldn't I? ;_;




♥