Sorry if you've read this before.
The slow eppylover just found it.
Read the same article,
with some interesting reader's
comments at the bottom,
on the Daily Mail page
---
Patti's Revenge on Eric Clapton
Daily Mail 21:26pm 14th July 2006
CLICK PIC FOR LARGER IMAGE
She has been silent for 40 years. Now tempted by a £1m pay cheque, the world's most famous rock chick is set to reveal every detail of her abusive marriage to Eric Clapton

Amid the amphitheatrical splendour of Verona's Roman arena, Eric Clapton was not a happy man. On stage in front of 15,000 adoring fans at the lavish open-air venue this week, he was plagued by the draining summer heat and a particularly persistent mosquito.

"As he's become older he gets miserable when it's too hot," says a member of the 61-year-old rock star's entourage. "He was bothered by the flies and his glasses kept steaming up." Clapton's misery as he performed his classics Layla and Wonderful Tonight might also have been due, in part at least, to the woman about whom he wrote his two most famous love songs.

Holed up in her 17th-century cottage in the West Sussex countryside, Pattie Boyd, Clapton's ex-wife and the woman he stole from Beatle George Harrison, is working feverishly on her autobiography.

CLICK PIC FOR
LARGER IMAGE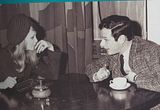 The book, which will see Boyd finally break her 40-year self-imposed silence over her marriages to two of the biggest music stars of the 20th century, was described to the Mail by a publishing source this week as 'full and frank'.

In other words, in exchange for her rumoured £950,000 advance, ex-model Pattie will be expected to dish the dirt about the sex, drugs and infidelities in her relationships with both the legends.

And to use the vernacular, 62-year-old Boyd certainly knows where the bodies are buried. Worse still for Clapton, her tome will go head-to-head in a sales war with his own forthcoming (and, it is rumoured, highly sanitised) £3.5 million life story. No wonder the guitar king is feeling the heat.

Pattie's account of her life with Clapton is sure to tarnish his image as one of rock's gentlemen. Particularly as, the Mail has learnt, she intends to lay bare the bizarre details of how the singer agreed to swop his own girlfriend for Pattie as a trade-off with George Harrison.

She is also said to be planning to tell the full story about dark rumours that during their nine-year marriage, Clapton, battling an addiction to drink and drugs, was an abusive and violent husband who cheated on her with a string of women because she couldn't bear him children.

None of which is likely to make comfortable reading for the star — nicknamed Slowhand because of the speed of his hands on the guitar — who has become a father to three young daughters late in life thanks to his happy, five-year marriage to American-born former waitress Melia McEnery, 32 years his junior.

To compound his problems, Pattie's memoirs come at the same time that another lover, Italian Lori Del Santo, whose four-year-old son with Clapton, Conor, died when he fell from a New York skyscraper, is penning her own version of events, which will allege that Clapton dispatched an aide to persuade her to have an abortion when he discovered she was pregnant.


CLICK PIC FOR LARGER IMAGE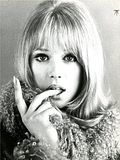 Hardly surprising, then, that the veteran rocker, who is already worth £130 million, is said by associates to be rueing his decision to accept the payday offered by publishers Random House for his musings on his life and hugely successful career.

"He realises he has opened a can of worms with Pattie and Lori," a source close to him told the Mail this week. "He is not too concerned about Lori, but he never thought Pattie would reveal the secrets of their marriage.

"He comes out of it pretty badly, but the truth is he should have let sleeping dogs lie and never agreed to do this book. He knows he's only got himself to blame." Indeed, friends of Pattie reveal she decided to sign her own publishing deal with Headline Books only because she was angry that Clapton had broken his vow not to speak about their marriage. Already, she has employed Prince Charles's biographer Penny Junor to help her write it.

Meanwhile Clapton's publishers are said to be furious over the news that Pattie's book will go directly up against his own when they both hit the shelves in the autumn of next year. As one who has been researching their lives for several years for my own book on Clapton, I can say without hesitation that Pattie's is one of rock's great untold stories. Not only was she the muse for Clapton's finest work, she inspired first husband George Harrison to pen the beautiful Something for her.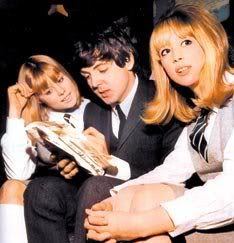 The public school-educated daughter of an RAF pilot, Pattie was a 20-year-old model when she was chosen to make a fleeting appearance in the 1964 Beatles film A Hard Day's Night. The well-bred trophy girl caught the eye of bus driver's son Harrison and the couple married in 1966. It was the blonde and toothy Pattie who spawned Harrison's interest in eastern culture and introduced The Beatles to the Indian mystic the Maharishi Mahesh Yogi in 1968. (Eppylover note: Correction ~ 1967.)


CLICK PIC FOR LARGER IMAGE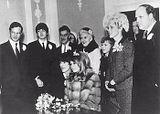 But it is her description of her relationship with another Beatle, John Lennon, that will be most fascinating. Rumours abound among those who surrounded the group that Lennon and Pattie enjoyed a brief fling during her marriage to George.

What is certainly true is that Lennon shared with his friend Mick Jagger a sexual obsession with Pattie, which he documented in a series of graphic diary entries.

Indeed, the blatant flirting between John and Pattie at a party at London's Royal Lancaster Hotel in December 1968 led to singer Lulu stepping in to remonstrate on behalf of Lennon's long-suffering wife Cynthia. Not that Harrison, despite his conversion to mysticism, was above the more earthly pleasures himself.

CLICK PIC FOR
LARGER IMAGE

He enjoyed an affair with Ringo Starr's wife Maureen Starkey during their marriage and his bed became familiar to a rotating band of groupies known as the 'Apple Scruffs' because they would hang around outside the group's Apple Corps headquarters on London's Savile Row.

But it was Pattie's relationship with Clapton that was to wreck her marriage to George. She and Harrison met the guitarist, then with Sixties supergroup Cream, at a party in Chelsea in November 1968.

The two men became immediate best friends, but Clapton, who was living with his teenage girlfriend Alice Ormsby-Gore, the daughter of Lord Harlech, fell passionately for the lovely Pattie. ~*~*~




Part 2




---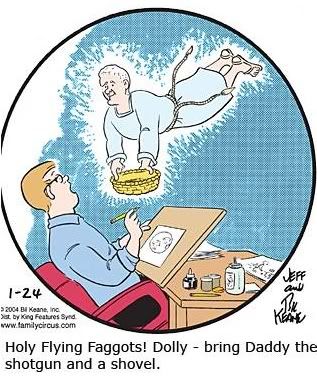 Re-captioned by some hilarious sleaze
for your offensive pleasure