Thank you for pointing me at this,
ladyeffingbroke!



A promo video for Brian that was
given to members of the press


This is sweet! Sweet!


CAPS: CLICK ON EACH FRAME FOR MUCH LARGER IMAGES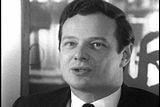 I have come to realize (as one commenter on the YouTube site mentioned) that
"A lot of this footage was used in the excellent (Eppylover thinks it could have been better with less pathetic music and direction) 1998 BBC Arena documentary 'The Brian Epstien (his misspelling) Story.'"

I recently bought the DVD of this UK special (a muddy but precious to me videotape-to-DVD ripped copy) from Video Beat to replace my even-muddier PAL-to-VHS dubbed tape. Although that DVD contains most of this material, I love having these choice clips from YouTube by themselves, in lieu of going through the whole DVD just to see Brian.

~ My only gripe (old eppylover kvetches again) is that they always insist on dragging in non-Eppy Beatles stuff. The overwhelming amount of Beatle music in this vid is extraneous material, unneeded and inessential (and indeed annoying to me) in what purports to be a press kit for Brian. A bit of song would have been nice, even useful and enjoyable; but the amount they put in this vid was overwhelming to the message about Brian.

If I want to listen to a lot of Beatles music, I can do that ~ and I DO do that ~ thank you. This, however, was supposed to be about Brian. Hello.

Indeed, when the U.S. edition of A Cellarful Of Noise was published, our Mr Epstein himself was outraged that the American issue was mainly filled with Beatle pictures rather than the variety of photos showing him with his other artistes and with his family that the UK version contained.

But nonetheless, I ♥ this YouTube film.

Oh, one more small detail ~ the "fullness" (read:fatness) of his face is due primarily to the lighting they used. However, I will admit he was rather well-fed in those pre-addict days. XD


p.s. The lady at the end of the video is Maureen Cleave, friend and member of the press.

Click this thumbnail to see Ms Cleave and Mr Epstein walking in the background at Buckingham Palace.

I love his stride, it's so... I dunno, elegant.

And they misspelled "receive." Makes the people from Getty look ignorant, or at the very least, careless and unprofessional.
The spelling/grammar nazi rides again.