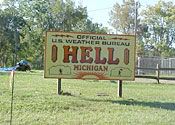 Hey ~ not too close, but not too far from us is Hell, Michigan ...
and they're slated to have a hot time tomorrow!!!
See links below!!!

Link #1 Link #2
Link #3 Link#4
Link #5 Link #6

More Links, some from the UK, France, etc.

==========

GINSBERG IN A SUIT?!

I'm slightly familiar with the beat poet Allen Ginsberg; however, I'm unimpressed ~ perhaps only because I've never paid him any attention ~ except for the definitely negative reaction our Brian had upon meeting him!

Whenever I see the name Allen Ginsberg, I always think of this part of a story from the fascinating webpage of the late Al Aronowitz:
"V.
One of the underlying reasons Allen had for wanting to get famous was the same as one of the underlying reasons I had for wanting to get famous.

In my case, I thought getting famous would improve my sex life. I knew Allen well enough to know he thought the same thing. He used to come on to everybody I introduced him to. Coming on was part of his comedy routine. Allen used to be quick and easy to laugh about his sex life.

Except, when I tried to put Allen together with Brian Epstein, then the Beatles' manager and a paradigm of high British swish, Brian was immediately turned off by both the unkempt Allen and Allen's Lower East Side tenement flat. Brian hadn't been there more than a few moments when he announced he suddenly remembered a previous appointment and he walked out the door."
So. What's sauce for the Eppy is sauce for the Eppylover. Or should I say sausage? ...Um, NO.

==========

Pssst!
I am asking three questions of everyone who reads this:
1. Do you know what Jammie Dodgers are?
2. Have you ever had Jammie Dodgers and do you like them?
3. Have you ever heard the Eddie Izzard reference to Jammie Dodgers?

==========

Upper-Class Quote of the Day:
"Madam, you have between your legs an instrument capable of giving pleasure to thousands and all you can do is scratch it."
~ Sir Thomas Beecham to a lady cellist