NOTE: Check out the bottom of this post for the names of just SOME of the artists Vivek has worked with!

CLICK FOR LARGER IMAGE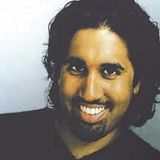 Vivek Tiwary is the man making the movie, The Fifth Beatle

Here's the original Rolling Stone article that broke the news


~*~*~
The Fifth Beatle Movie Forum
This is where you can talk to Vivek, me and
others, and provide ideas for the movie. We
can always use your input... the movie isn't
made until it's made, y'know!
Click Here To Get Started
---

PART TWO ~
HERE'S PART ONE

To tell you about one of Vivek's enterprises,
I'll quote from The Animators.com links page ~
"Unlike a lot of other "industry" websites, Starpolish isn't after your money.

Founder Vivek Tiwary is just a really nice guy who really wants to help musicians succeed.

My favorite part of their site is the very detailed advice on the business of music: building a street team, landing the DEAL, etc. But there's a lot of useful tools on there as well."
Another article:
Who is Vivek Tiwary?
From the website of Richard P. Dieguez, Entertainment Attorney ~
Vivek J. Tiwary is the Founder and President/CEO of both StarPolish and Tiwary Entertainment Group (TEG).

...Vivek has 10 years experience in the arts and entertainment industries, primarily working in music and theatre.
Prior to founding TEG in 1999 and StarPolish in 2000, Vivek started and ran the Alternative Marketing Department at Mercury Records, where he recruited, hired, trained, and directed Mercury's national Alternative Marketing field staff.
He also designed and executed national cross-promotions for Mercury with a variety of non-music corporate sponsors ranging from AT&T to Airwalk.
Vivek has also held several other record label positions, including Manager of Video Promotion for Mercury Records (working with MTV and VH1), and
Founder and Director of The Alternative/College Marketing Program for SEED Records (then a division of Atlantic Records).
Through these varied positions, Vivek has garnered significant experience in virtually every aspect of artist development - including

radio
retail
press and publicity
video
touring
Internet lifestyle


and
street marketing.
He has also worked with artists covering the entire musical spectrum, including
311
Jon Bon Jovi
Cake
The Cardigans
Allen Ginsberg
Hanson

Kiss
Korn
LL Cool J
John Mellencamp
The Mighty Mighty BossTones
Nashville Pussy

Oasis
Pearl Jam
Roni Size/Reprazent
Rusted Root
Bruce Springsteen
Shania Twain
and
Lucinda Williams
...to name but a few.

He also is an initial investor/Limited Partner in Mel Brooks' "The Producers" ~ !



I'm so glad such a talented, generous man is so obsessed with telling Brian's story.
Let's back him up as best we can!