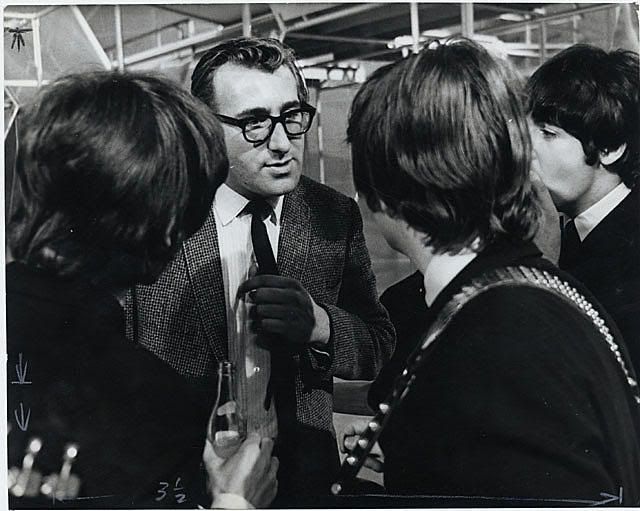 Excerpt from the MAL EVANS page in BeatlesNumber9.com ~~

from Mal's diary, January 21, 1963: "The Beatles have certainly gone up in my estimation. They are all great blokes with a sense of humour and giving one the feeling they are a real team."

For much of the early 1960s, touring became Mal's life. Against the wishes of Lily, left at home with Gary, Mal gave up his job at the Post Office in order to be at the Beatles' beck and call full time, clocking up industrial levels of mileage driving from Liverpool to London. He was also expected to attend to almost every personal whim.

John Lennon, who had a predilection for enigmatic silences, would punctuate these with murmured requests such as "Socks, Mal" — at which point Mal would scoot off to Marks & Spencer to fetch six pairs in navy cotton.

By the spring of that year, Beatlemania was under way; Mal and Neil Aspinall, another old friend from Liverpool, accompanied the Beatles on all of their tours, making up what was an astonishingly pared-down entourage. Aspinall still runs the Beatles' Apple organisation.

The Beatles' first European tour began in Paris in January 1964. The ever-loyal Mal was on hand, this time accompanied by Lily and their young son. Mal writes about a "big punch-up" with photographers in Paris. In the manuscript of his unpublished book he recalls that this was "the only fight I got involved in on behalf of the Beatles" — although he was terrified when he and the band were nearly beaten up by Ferdinand Marcos's thugs in Manila in 1966.


To mark the news in 1964 that the Beatles had reached No 1 in the US for the first time, Mal writes that Epstein threw a party at the hotel. Some journalists then hired prostitutes to provide a lesbian show for the Beatles in the room next to Epstein's. "It was a little unnerving to have these ladies performing before our eyes with each other in one room, with Brian, George Martin and his wife and the rather more staid members of the press in the adjoining living room. I guess celebration caters to everybody's different tastes."

With Beatlemania in full swing, Mal seems strangely oblivious: there is no sense in any of the diaries that he is working for the most famous, most successful pop stars of the time. But odd, intimate little moments are recorded:

March 18, 1964: "Had plastic cups in top pocket — milk poured in by George. John says after sarnies: Mal you are my favourite animal."
http://beatlesnumber9.com/mal.html

---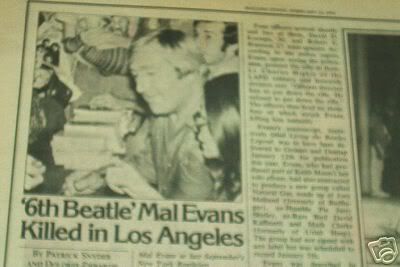 January 4, 1976--At his Los Angeles motel apartment at 8122 West 4th Street, Mal Evans, long time friend and former roadie/bodyguard of the Beatles, is shot to death by police lieutenant Charles Higbie (of the LAPD robbery and homocide division).

In a drunken stupor, Mal had become uncontrollably violent, appeared to be attempting suicide, and pointed a rifle at the officer, who, in self-defense, then shot him six times, four bullets hitting Mal.

His new girlfriend, Fran Hughes, with whom he was living, found him upset and despondent, and when friends couldn't get Evans to release the unloaded rifle he was holding, they called police.

Mal had recently separated from his wife, Lili Evans, who had reportedly asked him for a divorce just before Christmas. Mal was working on a book about his time with The Beatles, entitled Living with The Beatles Legend, which was scheduled to be delivered to the publisher, Grosset & Dunlap, on January 12.

He was 40 years old. When John was told of Mal's death, he broke down in tears.
http://history.absoluteelsewhere.net/