CLICK PIC FOR A
VERY INTERESTING SITE!


We are all in this Eppy-sode together, ya know!

It's really interesting the way different people visualize an "afterlife." My logical mind could never swallow the "heaven" and "hell" premise. Too simplistic, cartoony, sounds like stories that early simple-minded people would invent to placate themselves, calm down their instinctive fear of death, fear of there being "nothing" after you die - which actually is the most logical premise, but the arrogant human mind is unable to accept this, it's incomprehensible, too uncomfortable to live with. So people would rather lie to themselves and "believe" in something supernatural, so they can use it as a crutch, a false sense of "stability." The proverbial Linus security blanket. A pacifier to suck on.

That's wonderful if you can corrupt your mind into doing that for you. In fact, over 98 percent (take that with a shaker of salt; I read that percentage somewhere) of people in this country are conditioned to think that way; they're brainwashed from birth. I've tried very hard most of my life to "believe" in the things they were feeding me, but there's a little guy in my brain that keeps sneering, "Oh really?" and hits me with a rolled-up newspaper, makes me feel like an ass, and trashes any inner peace that other people seem to be able to hypnotize themselves into. I cannot force myself to go through the nonsensical motions that are part and parcel of a religious tradition without feeling like a goddamn clown. It is beyond me how anyone can do those things. How can a free-thinking individual just "believe" in thin air like that? Just because the rest of the cattle are mooing along in that direction? Augh.

What I find really refreshingly interesting is that Judaism, depending on which crowd you're hanging with, leaves your belief in an afterlife entirely up to you. They emphasize the importance of the present life over an afterlife - a "life after death" dogma is less essential for Judaism than for other world religions. It would, in fact, be relatively easy to imagine Judaism without any afterlife theories whatsoever. Because of the non-centrality of the afterlife for Jews, this tradition has been able to entertain a wide variety of different afterlife notions throughout its history, more so than perhaps any other religion.

I can not find inner peace by deceiving myself into a "belief."

And now, if you're still with me, I present to you some email Q/A from the person who has replaced Strongbad in my ...well, not my heart...

Simon Napier-Bell is not everyone's favorite person, but he usually says what I feel - albeit his analogies leave something to be desired because they're crude and turn people off:

For that very reason, the first email I will show you is his reason why he doesn't mince words and bluntly writes exactly what he thinks in exactly the manner he thinks ~

****************************************************
SimonNapierBell.com
****************************************************

WEDNESDAY MAY 3 2006


From: Harry Selbert, Boston, Mass, USA
To: simon@blackvinylwhitepowder.com
Sir
I understand your ardour in opposing religious bigotry but your narrow-minded rejection of people who use religion as a gentle cushion against the rougher and more confusing aspects of daily life makes your views feel far from fair or well-balanced.
HARRY SELBERT

(Simon's answer)
Writing in a fair and well-balanced manner not only causes pieces to be of unnecessary length and complexity but also leads to a reduction in their emotional impact which in turn lessens the writer's ability to rouse readers to instant thought on the subject in question.
I go for the tabloid approach. Take your position, ramp up the rhetoric, keep it simple, make it short. If people don't like it - fuck'em.
SIMON
---
That being said, here is the Q/A from Simon's site that I was referring to earlier:

THURSDAY MARCH 9 2006

From: Deirdre Solsen, Melbourne, Australia
To: simon@blackvinylwhitepowder.com

With regard to the jocular ending of your piece about entering a Buddhist monastery, I find your dismissal of every religion without exception most puzzling.

Personally I am a Christian, but I understand that God cannot make all of us love him in the same way. In some cases I see other religions as having real and almost equal value. People need to develop their own relationships with God. For example, because I am married to a Budhist, I am able to see that Buddhism is excellent for people who simply cannot understand God as a responsive spirit. Through the teachings of Buddha and the Buddhist church they can still find spiritual support.

You see, although I am a Christian I am able to look at other beliefs in a broad-minded way. Why can't you?

Regards
DEIRDRE SOLSEN

Hi Deirdre

My objection is to 'belief' itself.

Belief in anything means abrogating responsibility in that particular subject to someone else's analysis and conclusion. And that includes Buddhism. Should we really believe in animism? Were you a frog last time round? Might you be a scrotal crab the next?

To 'believe' is to have a buggered brain. How would you feel about voting for a Prime Minister or President who believed in Father Christmas? What sort of snap decisions would you expect a man to make in a national emergency if you knew he hung his stocking up on Christmas Eve genuinely believing that Father Christmas would come down the chimney and fill it? Well that's what you're doing when you vote for people of religious conviction - Christian, Moslem, Jewish, Hindu, Buddhist.

Belief turns brains into bottoms and religion into a big buggering penis.
People like you are the KY.

Yours
SIMON


Hi, 'tis the eppylover again. I must add that the "beliefs" that religions feed you are things that a human just plain CANNOT KNOW. And I've come to terms with the truth of CANNOT KNOW. And that truth is what ultimately has given me the inner peace about the god and jesus myth.

Religion:
(Please forgive me if some of this is derivative, heh)
About 5,000 years ago a bunch of religious and political hustlers got together to try to figure out how to control people and keep them in line. They knew people were basically stupid and would believe anything they were told. So they adapted all the stories the primitive peoples already had been telling eachother, and invented religion - which is, after all, perfectly designed to scare and control primitive people. In no way does superstitious nonsense like this apply to the lives of intelligent civilized humans in the 21st century.

It irritates me that most people cannot comprehend the concept of anything's possible and we CANNOT know. They either think I'm an atheist, or "I can't decide."

Excuse me, there is NOTHING to decide, because there are no choices, because it is all UNKNOWABLE.

And that shouldn't scare you. It should comfort you. Because you know that everyone is in the same boat as you. Death is like going to the dentist. Obsessing about it ahead of time makes it that much worse. Just fergetaboudit and take it when it comes. What's gonna happen is gonna happen, and there's nothing anyone can do about it, so what the f* is the point of thinking about it? Oh, unless there's a masochistic streak in your personality that makes you enjoy torturing yourself.

When confronted with people who are solidly religious I cannot help but play devil's advocate and take the atheistic view, the most logical, the Carl Sagan view — that all organisms are just that. Organisms. You and I have no more of a "spirit" than does the calla lily lying on our chests in the casket. You die. Poof. Gone. Nothing. End of story.

Like I say, when faced with fundamental religionists I have no recourse but to counter with the atheist bit, because I've found they're so heavily, terminally conditioned that the concept of agnosticism does not compute.

With myself, I shift over and use my agnostic mind, thusly:
Our puny human brains CANNOT KNOW that all the religion mumbo-jumbo isn't really the case, now can they? For all we know, all this fairy-tale stuff IS true. So I operate on the assumption that anything's possible. If I want to have fun imagining something, great! as long as I don't put my actual BELIEF in it.

And never, ever forget... christianity is NOT the world's biggest religion, and it's also a relatively new religion, so let all the puffiness out of your big heads, christians - if there were a popular vote taken of all the people on earth, your jesus is NOT the THE WAY THE TRUTH AND THE LIGHT. Y'all just happen to be the hustlers who have the most power at this particular point in time. And as the man once said, the times they are a-changin'.
</end rant>

Thank you for listening.


Quote of the Day
In religion and politics, people's beliefs and convictions are, in almost every case, gotten at second hand, and without examination.
- Mark Twain

@----------@
Extra Added Attraction:
GEORGE CARLIN ON THE 10 COMMANDMENTS
from "Complaints and Grievances" (HBO special)
Click to hear mp3 of The Ten Commandments
(new version he reads from his book
When Will Jesus Bring The Pork Chops?)
CLICK PIC FOR HUGE
1177x1500 IMAGE!

Here is my problem with the ten commandments — why exactly are there 10?

You simply do not need ten. The list of ten commandments was artificially and deliberately inflated to get it up to ten. Here's what happened:

About 5,000 years ago a bunch of religious and political hustlers got together to try to figure out how to control people and keep them in line. They knew people were basically stupid and would believe anything they were told, so they announced that God had given them some commandments, up on a mountain, when no one was around.

Well let me ask you this- when they were making this shit up, why did they pick 10? Why not 9 or 11? I'll tell you why- because 10 sounds official. Ten sounds important! Ten is the basis for the decimal system, it's a decade, it's a psychologically satisfying number (the top ten, the ten most wanted, the ten best dressed). So having ten commandments was really... a marketing decision! It is clearly a bullshit list. It's a political document artificially inflated to sell better. I will now show you how you can reduce the number of commandments and come up with a list that's a little more workable and logical. I am going to use the Roman Catholic version because those were the ones I was taught as a little boy.

Let's start with the first three:

I AM THE LORD THY GOD THOU SHALT NOT HAVE STRANGE GODS BEFORE ME

THOU SHALT NOT TAKE THE NAME OF THE LORD THY GOD IN VAIN

THOU SHALT KEEP HOLY THE SABBATH

Right off the bat the first three are pure bullshit. Sabbath day? Lord's name? Strange gods? Spooky language! Spooky language! Designed to scare and control primitive people. In no way does superstitious nonsense like this apply to the lives of intelligent civilized humans in the 21st century. So now we're down to 7. Next:

HONOR THY FATHER AND MOTHER

Obedience, respect for authority. Just another name for controlling people. The truth is that obedience and respect shouldn't be automatic. They should be earned and based on the parent's performance. Some parents deserve respect, but most of them don't, period. You're down to six.

Now in the interest of logic (something religion is very uncomfortable with) we're going to jump around the list a little bit.

THOU SHALT NOT STEAL

THOU SHALT NOT BEAR FALSE WITNESS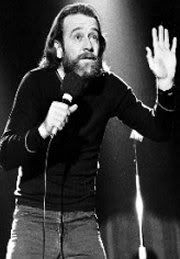 Stealing and lying. Well actually, these two both prohibit the same kind of behavior- dishonesty. So you don't really need two. You combine them and call the commandment "thou shalt not be dishonest". And suddenly you're down to 5.

And as long as we're combining, I have two others that belong together:

THOU SHALT NOT COMMIT ADULTRY

THOU SHALT NOT COVET THY NEIGHBOR'S WIFE

Once again, these two prohibit the same type of behavior. In this case it is marital infidelity. The difference is — coveting takes place in the mind. But I don't think you should outlaw fantasizing about someone else's wife, because what is a guy gonna think about when he's waxing his carrot? But, marital fidelity is a good idea, so we're gonna keep this one and call it "thou shalt not be unfaithful." And suddenly we're down to four.

But.. when you think about it, honesty and fidelity are really part of the same overall value... so, in truth, you could combine the two honesty commandments with the two fidelity commandments and give them simpler language, positive language instead of negative language, and call the whole thing "thou shalt always be honest and faithful" ...and we're down to 3.

THOU SHALT NOT COVET THY NEIGHBOR'S GOODS

This one is just plain fuckin' stupid. Coveting your neighbor's goods is what keeps the economy going! Your neighbor gets a vibrator that plays "O Come All Ye Faithful," you want one too! Coveting creates jobs, so leave it alone. You throw out coveting, and you're down to two now — the big honesty and fidelity commandment, and the one we haven't talked about yet:

THOU SHALT NOT KILL

Murder. But when you think about it... religion has never really had a big problem with murder. More people have been killed in the name of god than for any other reason. All you have to do is look at Northern Ireland, Kashmir, the Inquisition, the Crusades, and the World Trade Center to see how seriously the religious folks take "thou shalt not kill." The more devout they are, the more they see MURDER as being NEGOTIABLE. IT'S NEGOTIABLE. It depends on who's doin the killin' and who's gettin' killed.

So, with all of this in mind, I give you my revised list of THE TWO COMMANDMENTS:

THOU SHALT ALWAYS BE HONEST AND FAITHFUL TO THE PROVIDER OF THY NOOKIE

&

THOU SHALT TRY REAL HARD NOT TO KILL ANYONE ... unless, of course, they pray to a different invisible man than you.


Two is all you need. Moses could have carried them down the hill in his fuckin' pocket.

And I wouldn't mind those folks in Alabama posting them on the courthouse wall, as long as they provided one additional commandment:

— THOU SHALT KEEP THY RELIGION TO THYSELF.