Scottsdale restauranteurs hope risque name draws crowds, not disgust
by Sara Sturges in The Arizona Republic
published on Monday, April 24, 2006

Would you want to eat at a restaurant with a name that is a slang term for a vagina?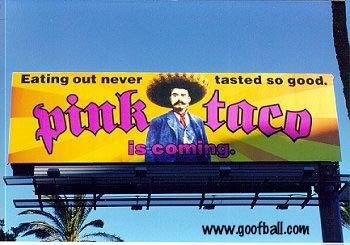 A Mexican restaurant called Pink Taco is expected to open in June on the corner of Scottsdale and Camelback roads in the ritzy Scottsdale Waterfront district. Scottsdale's mayor, Mary Manross, isn't thrilled about it.

In the City of Scottsdale's relentless quest to maintain its classy image, Mayor Manross has requested that the restaurant change its name.

SCOTTSDALE MAYOR MARY MANROSS

Manross told The Arizona Republic: "I don't appreciate anything that offends half the population. The owner heard my concern that I really didn't want to see a business with that name opening anywhere here."

The original Pink Taco lives inside the Hard Rock Cafe in Las Vegas, a city that seems to be more accepting of pun and diversity than the slow-to-change neighborhoods of Scottsdale. Pink Taco's CEO, Harry Morton, told The Arizona Republic that the name of the restaurant came out of a dish that's on the menu.

"It's tongue-in-cheek, catchy and amusing," Morton said. "You've got to stand out from the rest of the crowd."

The Las Vegas-born restaurant may be ready to set up shop in Scottsdale, but Scottsdale doesn't seem like it's ready for it.

The Scottsdale City Council will consider Pink Taco's application for a liquor license on May 15. The council will vote whether to recommend that the state liquor board approve the license.

Pink Taco management is worried that the license will not be approved because of the controversy surrounding the restaurant's name. The management said Pink Taco would not be able to open without a liquor license.

It would be absolutely absurd if the council refused to grant a license simply due to a restaurant's title. If the mayor is utterly (Dare I say that word? It might offend female cows) concerned about offending a population based on a gender issue, why hasn't she looked at another restaurant called Long Wong's?

Maybe it's because Long Wong's is poking fun at the opposite sex.

If people -- women in particular -- are offended by the restaurant's name, then they shouldn't go there to eat. I can just envision older Scottsdale women whining about the "offensive" name while they shop for diamonds in the Tiffany's at Fashion Square mall. Fortunately, Pink Taco isn't trying to market itself for that demographic anyway.

David Roderique, the economic-vitality director for Scottsdale, told The Arizona Republic, "While there may be some people who have concerns about the name of the restaurant, we've got a younger crowd who appreciates more diversity and finding ways to slap the establishment."

Pink Taco will be sitting next to the sophisticated Wildfish Seafood Grille and overpriced clothing boutiques. It will also be close to the newly built condos that will sell for as much as $4 million.

Hopefully Pink Taco's new millionaire neighbors will have spoiled Generation Y teenagers who will giggle at the restaurant's name, park their Mercedes with the restaurant's valet, and rack up a hefty bill to put on daddy's credit card.

As for me, I'll be the first in line at Pink Taco. I can't wait to try the fresh margaritas and tempting "real" Mexican food that the owner has raved about. After all, the quality of the food is what the public should judge, not the risque name!

Sara Sturges is a journalism senior.
Invite her to have margaritas at Pink Taco
by e-mailing her at ssturges@imap2.asu.edu.

---

And... hahaa... in the spirit of The Six Degrees of Kevin Bacon, I even scored a 2-degree separation (see photo at bottom of following linked page) between

Pink Taco Restaurant->Mayor Manross->The Beatles!

The only thing that bugs me is that nowhere in the article can you find a reference to the original design creators of this sculpture: the creators of The Beatles Yellow Submarine movie! Dang!

Here's another article by a publication that doesn't even dare print the name of this restaurant!!!
(He even quotes my #2 hero, Tom Lehrer!)



@==--==@





Easy-to-read bio of Simon Napier-Bell
from Mediation.co.uk

Simon Napier-Bell was born on April 22nd 1939. His father was a film director and he was educated at a variety of different state and private schools ending up at a public school - Bryanston in Dorset.

He left school to go to America and be a musician, but gave that up to come back to Britain and go into the film business. From there he graduated to the music business and pop and rock management.

He has been a manager in the British music business since 1964. During that time he has managed the Yardbirds, John's Children, Marc Bolan, Tyranosauraus Rex, Japan, Wham!, Blue Mercedes, Asia, Ultravox and Russia's biggest girl singer of the late nineties, Alsou. He is currently managing Russia's biggest new act of last year, boy duo, SMASH!!

He started out in the sixties, when he also…

…wrote songs (together with his friend Vicki Wickham he wrote the lyrics for You Don't Have To Say You Love Me)

…produced records (amongst others, he produced the Yardbirds, the Scaffold, Peter Sarstedt, John's Children, and Françoise Hardy)

…scored films (amongst his credits are Here We Go Round The Mulberry Bush and What's New Pussycat)

Since the late seventies Simon Napier-Bell has written at different times for all the British broadsheets — the Telegraph, Guardian, Independent, the Times and the Sunday Times. And has had two books published - You Don't Have To Say You Love Me (first published 1983 by Hodger & Stoughtgon), and Black Vinyl White Powder (Ebury Press, 2000).

Reviews of Simon's Books
Simon's account of his first meeting with our Brian ~ "Eppy"

Please click & join us!