Perhaps it's because I'm in such a crappy down mood this morning anyway. There's some kind of soap opera going on with Dale's mother and sisters, and he was bla-bla-ing to a sister on the phone as I was trying to sleep. His redneck voice kept me awake till god knows when. So maybe I'll decide to delete this post later.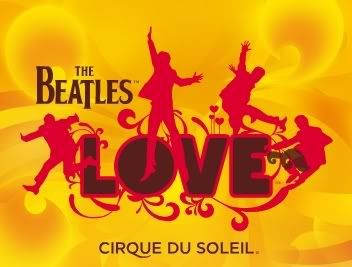 Being in this state of mind while discovering more about the Vegas Beatle thing probably has a lot to do with the way I'm feeling about it.
Sir George Martin worked in tandem with the Cirque du Soleil cabaret troupe in adapting the old Beatle songs.
The surviving Beatles, Sir Paul McCartney and Ringo Starr, are also involved in the project and a selection of new songs and a new album will accompany the production.

Apple Corps' Neil Aspinall told the UK's Daily Telegraph, "The show involves the creation, by the remixing and remastering of The Beatles' recorded performances, of completely new music, which will be featured in the show, and which should lead to the release of the show album."

The idea for a show dates from a brainstorm by George Harrison and his friend the Cirque de Soleil founder Guy Laliberte.

An opening next summer is expected at at the Mirage Casino.

At this point, for me, this show just feels like another merging of the retro classic with stuff too modern and trite and unconnected with the rich original goodness... watering down the Beatlosity.

Just one example would be the choreography. Even though the way we danced in the 60's looks very dumb (and indeed it was), the "funky" way they dance here is even dumber in this context; it doesn't fit at all, is not authentic, and would have looked stupidly cartoonish to us back then.

So many things don't seem to fit or belong... skateboards, fer christ sakes... skateboards?

Oh well, what can you do, at least it's something to dish out to the Beatle-deprived fans. It's something to get the Fabs images out there for more of the world to notice. And holy shite, it's Beatle/Aspinall-approved, which is close to a miracle these days. Our George got this ball rolling.

Then, like I said, the miracle of all the former Beatles and their estates/heirs agreeing on something. Holy shite.

But what about John? If Yoko had died instead of John, and he was thinking on his own, I have a feeling he might have found a reason to think it was soft (lame) - you know, sometimes he just pulled a good (to him) reason to diss something out of thin air, and he had a talent for being able to rationalize anything to the public to make it sound intense and groovy so they'd suck it up. However, with "The Yoko Yes," John would have been fully on board with this. You know he went along with whatever Mother thought.

It hurts that Brian is integrated into the event not at all. If he is, I'm sure it's only as a footnote, as always. And Brian was, indeed, an equal part of the experience when it was happening. His Boys don't want to remember or acknowledge him as such, though.

In their memories, they were the big stars, and Brian was... Leggy Mountbatten.

Damn, I feel like crap this morning.

I would so hope that this show would do something outrageously special for "the man without whom"... otherwise it's just another fab method of drawing attention away from him.

As concerns their Eppy, his Boys are handing us a lemon again.
Eppylover...must...find....way...make...lemonade.

Please provide YOUR valuable input in this forum!




Click Here To Get Started