comedy_albums
A New Community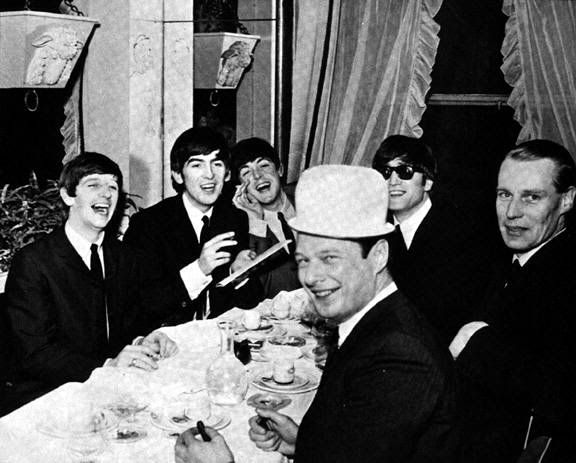 WHY THE CHAMBER POT ON THE HEAD OF MISTER ELEGANT?!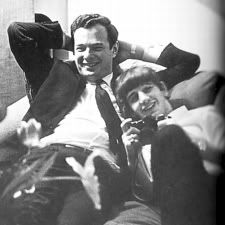 From THIS PAGE of Bill Harry's Mersey Beat website:
A major event was the news that they had topped the American charts. Paul remembered, "One night we arrived back at the hotel from the Olympia when a telegram came through to Brian from Capitol Records of America. He came running in to the room saying, 'Hey, look. You are Number One in America!' 'I Want To Hold Your Hand' had gone to Number One.

"Well, I can't describe our response. We all tried to climb onto Big Mal's back to go round the hotel suite: 'Wey-hey!' And that was it; we didn't come down for a week."

Ringo said, "We couldn't believe it. We all just started acting like people from Texas, hollering and shouting, 'Ya-hoo!' I think that was the night we finished up sitting on a bench by the Seine; just the four of us and Neil."

George recalled, "It was such a buzz to find that it had gone to Number One. We went out to dinner that evening with Brian and George Martin. George took us to a place which was a vault, with huge barrels of wine around. It was a restaurant and its theme was... well, the bread rolls were shaped like penises, the soup was served out of chamber pots and the chocolate ice cream was like a big turd. And the waiter came round and tied garters on all the girls' legs. I've seen some pictures of us. There is a photograph around of Brian with the pot on his head.
---
Brian at his corniest...not to mention...a...bit?...tipsy!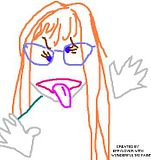 Christine Loves Comedy!