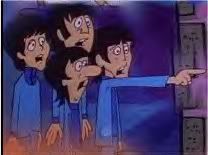 "Please Mr Postman" eppy-sode.

I'm impressed because they mention Brian several times, without feeling the necessity of explaining who he is. Shows you the average joe knew who he was back then, much more than they do now.

I'm less than impressed at their poor excuses for Liverpudlian accents. Besides the idiotic scripting, the humiliating voice work was the reason Brian forbid this series from being shown in the UK. He would indeed have scrapped the series entirely, but had no control over anything but the UK.

Which, actually, worked out for the best ... for us.