London - 31 January 2006
An exhibition of 50 newly discovered photographs of The Beatles- shot in 1965- has opened in London."Now These Days Are Gone" shows a very intimate side of the Fab Four during those early days.

Look at this
Video showing many fabulous unseen Beatles photos!
BSN: 0605B
STORY: BEATLES PHOTOGRAPHS
LOCATION: LONDON, UK
DATE SHOT: JANUARY 26, 2006
TXN DATE: JANUARY 31, 2006
AUDIO: NATURAL SOUND AND ENGLISH SPEECH
DURATION: 3.33

A quote from this film that made me smile -
from narrator Patricia Whatley, Archivist, University of Dundee:

"When the MBE's were announced they had to go to a press conference, and John apparently said he wasn't going, and Brian Epstein said, 'yes you are' and he had to go and get him out of his bed, and in the photographs you see John rather dishevelled, hair undone, shirt undone, no tie, and the other three are looking very like the Beatles normally are, well groomed, and John is there, obviously having been taken out of his bed, taken to this press conference which he then did with good grace, smiling happy."

---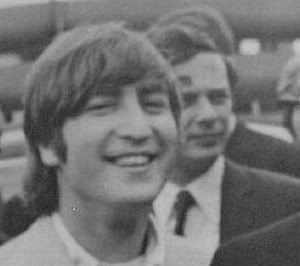 Hahaa, I love visualizing Brian wrestling with John, pulling the covers off, dragging him onto the floor, grabbing his foot and pulling him out the door while John smirks and slides on his back, casually puffing on his ciggie.

Just another typical day in the lives of Lennon/Epstein.

You hear so much about Brian having been cowed, put down and/or abused by John. This was not always the case -- in addition to this anecdote, I have also read about other various instances where Brian (playing the disciplinary parent), having exhausted all logic or with no time to spare, was quite assertive with John and took extreme measures to make him toe the line. For obvious reasons, Brian didn't wish the public to be aware of it, but he was once inadvertently seen furiously grabbing John by the lapels and screaming into his face.

I know, some of you would think "that bastard!" ...However, sometimes that's just what it took, the Aunt Mimi-type of discipline that kept Lennon depending emotionally on Epstein.

It makes one wonder, with Eppy sadly gone forever, exactly what must have happened from time to time keeping John so dependent on Yoko.

It also makes one wonder if, had Brian not died, John would have gotten permanently stuck on Yoko. Hard to say. The Eppylover's opinion is, Brian would have prevailed (he was so very good at talking sense to John), and Yoko would have been just another temporary Lennon sidetrack, like the Maharishi was.