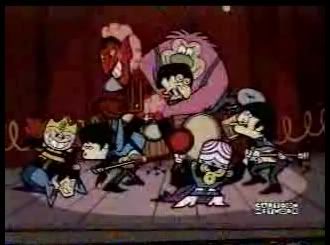 Selected choice scenes from
Meet The Beat-Alls!
Very derivatively punny!
---


I didn't like the Powerpuff Girls at first, until I realized that it was a Chibi-ish spoof of the superhero cartoons he grew up with. With Meet The Beat-Alls, the Powerpuffs creator succeeded in effecting a bizarre cross-breed with his other childhood obsession, The Fab Four.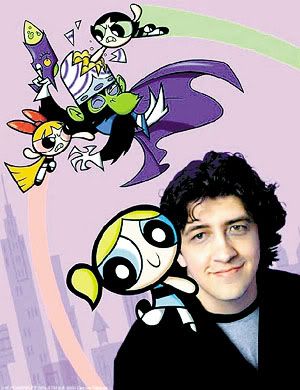 Excerpted from "PUFF GO THE BEATLES" By Brian McTavish - The Kansas City Star 02/07/01
Powerpuff creator Craig McCracken has always been a Beatlemaniac. Dozens of sly references to the hit music and storied career of John, Paul, George and Ringo are cleverly crammed into this 11-minute episode, conceived and co-directed by "Powerpuff Girls" creator and executive producer Craig McCracken.

"Myself and a lot of the crew are huge Beatles fans," McCracken said in a recent teleconference. "It was just something that we really wanted to do. I mean, I've been listening to the Beatles since I was 7 years old."
But will, say, an 8-year-old be able to decipher the mini-encyclopedia of Beatles references in "Meet the Beat Alls"?

"Kids probably won't get the references," McCracken said. "But if they see their parents laughing, hopefully, they'll ask them what all that meant. And then maybe kids will start listening to the Beatles, which would be a good thing."

Set your VCRs, too, because repeat viewings are virtually essential to catch all of the clever Beatles allusions that whiz by.

The rotten quartet proves unstoppable, until the Puffs figure out a way to break up the "brutish invasion" and save the day.


But not before the Beat Alls clobber a mid-1960s TV cartoon version of the Beatles that's performing on stage, while Mojo Jojo instructs the audience: "Will the people in the cheap seats please leave -- and the rest of you hand over your jewelry."

Prof. Utonium gives a pep talk to his girls after they've been defeated by the Beat Alls:
"Yesterday, all our troubles seemed so far away. Now it seems they're here to stay. Sitting here eight days a week, everyone seems to think you're lazy. I don't mind. I think they're crazy. But you used to be running everywhere at such a speed. Now you think there's no need ... Oh, you can't do that. What will Townsville do when they look for the girls with the stars in their eyes and they're gone?"

"There's also a vague reference in there, where the zookeeper says: `Someday monkey won't play piano song.' And nobody knows that's a reference, but it's actually a misquoting of the French lyric from `Michelle' ("Sont les mots qui vont tres bien ensemble"). I don't know if anybody's going to pick up on that, but that's what I thought (Paul McCartney) was singing when I was a kid."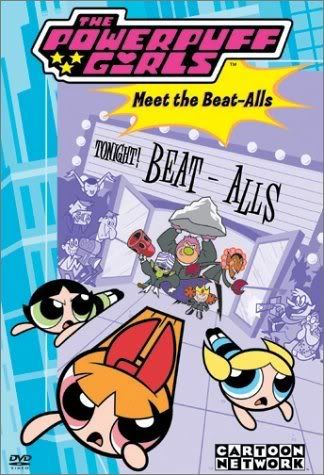 "The Beatles were given the freedom (by Brian Epstein ~eppylover) to do what they wanted to do and experiment and try new things and, basically, be honest to themselves as artists," McCracken said. "And we at Cartoon Network, on a much smaller scale, are kind of given that, where it is a bunch of guys sitting around who get to do what they love to do.

"There is that parallel. I wouldn't say we're anywhere on a par with their creativity or their talent, but we've got the same freedom that the Beatles had."