Here's the link to the galleries where the 16 MAGAZINE photos reside - The "It's Only Rock 'n Roll 16 MAGAZINE PHOTO ARCHIVE -- but first, read below to make sure you know how to find everything you can get!


My email acquaintance Chazz Avery from the Savage Young Beatles,
which is a glorious subsection of his Beatle Source website, has once again clued me in on some nice photos of Brian Epstein -- this time they're from the It's Only Rock 'N Roll auction catalog. I do have most of these Brian Epstein portraits already, albeit these on the auction website seem to be of better quality, yay! And Gloriosky! I exclaimed. There is one similar yet slightly different pose that I did not have yet!

OMG, thanks, Chazz!
Go visit his site - THE SAVAGE YOUNG BEATLES - (navigation is at the bottom) - if you click around you'll find that it's amazingly full of mostly very early Beatles -- including a lot of rare early audio you can't find elsewhere, at least to my knowledge. Send him a small email of thanks and encouragement - he needs to know people are appreciating his efforts. What a guy.
Pictured below: MARK LINDSAY WITH GLORIA STAVERS
Perusing this It's Only Rock 'N Roll catalog further, I find LOTS of Beatles pics I've never seen before, that came from the archives of 16 Magazine's Gloria Stavers.

(If memory serves me right, Ms. Stavers was quite fond of Brian Epstein.)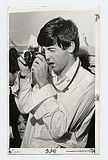 Go to this link for the 16 Magazine Photo Archive and click around - lots of galleries of personal snapshots and press photos, etc! (This one of Paul, right, came from Gallery #413 on the 2nd page of galleries - dropdown box at bottom.) It's frustrating, though, that a lot of the best ones are not shown as single photos but as thrown-together sample groupings. (There's an unfamiliar Cowboy Eppy on horseback that's so small you can barely tell it's him - except for the striped shirt! Augghhh!) However, you could probably spend the whole day looking through these and still find treasures. Supersize & save 'em before they disappear!
Courtesy of Chazz & the Eppylover. :)

If you click on the numerous links in their left column, you'll find so many more it'll make your head spin!

For example, under the link about halfway down the column called "- Beatles Photographs" are four more pages (next page box at bottom) of unseen Beatles pics. I've gotta stop looking now, and I feel like I just got started!
(If anyone stumbles across any other Eppies, please let me know!)
---
A Couple of Fascinating Samples Below
1967. This rare image from Michael Cooper's "Sgt. Pepper..." session features a preliminary front row of statues that were ultimately relegated to other positions. The Hitler image was struck from the set altogether.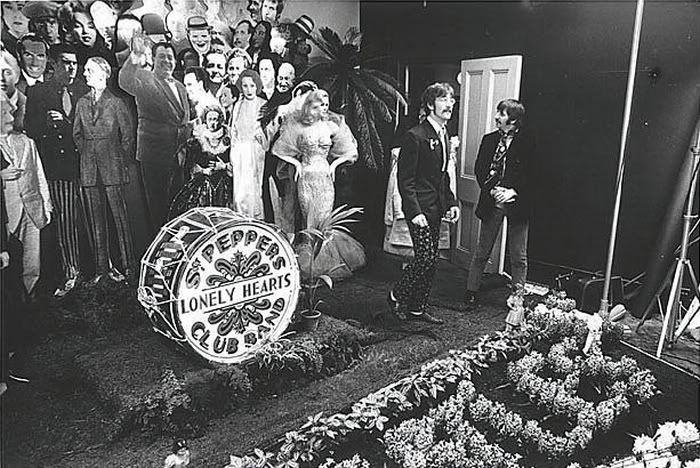 Note the Hitler statue to the right of one of Michael Cooper's lighting umbrellas in this "Sgt. Pepper" image from March 30, 1967.