Yoko Has Her Way With Lennon's Record
Yoko Changes Lennon Album
For a genius, Yoko Ono doesn't seem very smart.

The anniversary edition of John Lennon's hit 1974 album, "Walls and Bridges," has just come out — but with a lot of changes.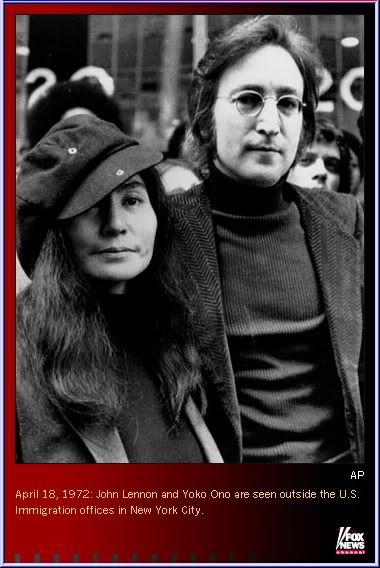 The principal difference is a new cover: Ono has tossed aside the original — a drawing by Lennon from when he was 11 years old — and replaced it with a Bob Gruen photograph of Lennon wearing four pairs of sunglasses that used to be in the album's liner notes.

Of course, a Gruen photograph is always a good thing. His new coffee table book, "John Lennon: The New York Years," is a must-have for any Beatle fan (it's certainly more important than the recent bio that was published and is said to be full of inaccuracies).

But it was Lennon who selected his childhood drawing for that cover. How, one wonders, could Ono have conceived of making such a change?

There are plenty of other "updates" on the newly remastered "Walls and Bridges." Fans have noticed that Ono lists herself as "producer" of the reissue album, her name in all capital letters. The original credits read: "Produced and Arranged by John Lennon With the Plastic Ono Nuclear Band/Little Big Horns and the Philharmanic Orchestrange."

Ono also has replaced the Apple Records label on the original disc with a version of a customized label used on the 1972 album "Sometime in New York City." That label, now adorning "Walls and Bridges," has two pictures of Lennon, two of Ono and one of them superimposed over each other in between the pairs to make one person.

"The difference," one fan writes, "is that when they used this on 'Sometime in New York City,' John morphed into Yoko. Now Yoko becomes John!"

Insiders have pointed out the ridiculousness of all this Ono-izing of "Walls and Bridges" since Lennon wasn't living with Ono when he made the album. He was with his girlfriend, May Pang, a fact that is thoroughly documented.

Fans have also noticed an audio change, as well. At the tail end of "Surprise, Surprise (Sweet Bird of Paradox)," a rocking shuffle Lennon wrote for Pang, there's a new little bit of singing as the song trails off.

It sounds like Lennon, or maybe Ono herself, is chanting "Yo-ko" very softly in a falsetto after repeating the chorus, "I love, love her." Now it seems like it's Ono and not Pang he loves, which was not the case at that time. Shades of the old days when the Beatles added hidden words to their songs.

Of course, the main reason for Ono's march to revisionist history is the upcoming Dec. 8-9 25th anniversary of Lennon's murder. First came the ill-fated Broadway musical, which closed after a short run. Now the album has been altered.

"Walls and Bridges" was Lennon's best-selling solo record released while he was alive. It contained two top-10 hits, "Whatever Gets You Thru the Night" and "No. 9 Dream." Ironically, the latter features whispered vocals by Pang, something Ono could not tamper with unless she wanted a huge uproar. "No. 9 Dream" is one of Lennon's most played songs to this day.

Nevertheless, "Walls and Bridges" remains an unusual and often extraordinary collection of songs that has been eclipsed over the years by "Imagine" and "Double Fantasy."

Lennon experiments with Philly soul ("Bless You"), gives a nod to the two big stars of the day — Stevie Wonder ("What You Got") and Elton John ("Old Dirt Road") — and takes yet another nasty swipe at former pal Paul McCartney ("Steel and Glass").

As for Ono, an article in yesterday's Japan Times doesn't help much to restore her image. Writer Philip Basor points out that she's shilled for a number of companies by appearing in Japanese TV commercials that feature Lennon songs.

The worst, I should think, is for Gibraltar Life Insurance. Lennon and Ono were married in Gibraltar, Spain — a point made in the Beatles song "The Ballad of John and Yoko." The Lennon song "Woman" plays in the Gibraltar ad.

In a couple of days, Ono will compound her problems when she releases a book called "Memories of John." There are interviews with 73 different people, many of whom did not know Lennon.

There are no interviews with the ex-Beatles, their wives, Lennon's first wife, Cynthia, or son, Julian. John Fogerty says in the book, "I never met John, but I always felt that I knew him." Yikes! There are also statements from such unlikely contributors as the Bangles' Vicki Petersen, Bono, Alicia Keys, Steve Earle, Jello Biafra and Carlos Santana.

I don't get it. Ono is obviously a brilliant woman and has been a great mother. All of these things — the musical, the book, the reissued albums — gave her an opportunity to show her generosity, wisdom and unselfishness. She seems to have passed on them all and taken a road that Lennon himself, even though he liked to put people on, would not have approved of.



Copyright 2005 FOX News Network, LLC. All rights reserved.