Near the end of his life, Isaiah Berlin wrote these words to a correspondent who had asked the great imponderable:

"As for the meaning of life, I do not believe that it has any. I do not at all ask what it is, but I suspect that it has none and this is a source of great comfort to me. We make of it what we can and that is all there is about it. Those who seek for some cosmic all-embracing libretto or God are, believe me, pathetically mistaken.

"It's time that we acknowledged honestly what most people believe, that religion is at bottom nonsense. I do not deny the good work of religious people, nor the cultural effects of religion, nor its deep penetration into our consciousness, but what I think we should acknowledge is that religion contains a massive falsehood, namely that there is a God who determines our actions and responds to our plight. As AJ Ayer said, if God has constituted the world in such a way that he cannot resolve the phenomenon of evil, logically it makes no difference whether we are believers or unbelievers. The hypocritical respect now being accorded to Muslim 'scholars,' people who believe that the Qur'an was dictated word for word by God, is just one example of the mess we have got ourselves into by pretending to take religion seriously. Disagreements about society can only be resolved in the here and now on liberal principles of discussion and compromise. You cannot have a sensible discussion with fundamentalists, be they Christian, Jewish or Muslim, because they start from a different point..."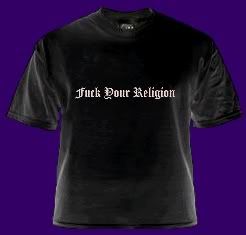 CLICK PIC FOR THIS SHIRT's ORDER PAGE
Here's the
Main page for the T-Shirt website
if you're into that kinda thing.


---

And a pic of Brian to make things all right with everybody again (tee hee)